Author Alexander McCall Smith's words set in stone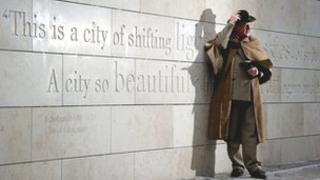 Author Alexander McCall Smith has been celebrated in a new public art installation in Edinburgh.
A quotation from the writer has been set in stone in a wall.
It forms part of Atria's offices being developed by the city council in the central business district near the international conference centre.
It reads: "This is a city of shifting light, of changing skies, of sudden vistas. A city so beautiful it breaks the heart again and again."
The passage was originally written by the author, who penned the No 1 Ladies' Detective Agency series, as part of a campaign to promote the capital, the world's first Unesco City of Literature.
Officials said the new artwork celebrates the writer's works, which "have helped profile the capital city around the globe".
'Mean it'
McCall Smith unveiled the new wall, which is around 30 metres long and three metres high.
He said: "I was delighted and honoured to be asked by Edinburgh City Council and the Edinburgh Unesco City of Literature Trust if my words could be used on this very prominent wall in the heart of the city.
"If your words are to be set in stone, then you have to be careful what you say. You have to mean it. And I do mean what I say about this magnificent city, of which I am proud to be a citizen and which will always be my home."
Andrew Burns, Edinburgh City Council's leader, said: "Atria's art wall celebrates the work of one of the capital's most internationally renowned authors.
"Alexander McCall Smith is very passionate about Edinburgh and I am delighted that his words, which describe the unique nature of Edinburgh to a tee, have been captured here in stone to inspire generations to come."