Survey begins in bid to preserve WWI trenches in Edinburgh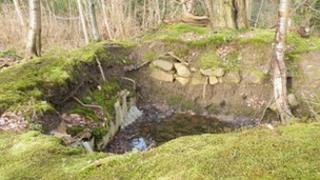 An archaeological survey has begun into a series of World War I training trenches on the outskirts of Edinburgh.
The move is part of a campaign to preserve the site for future generations.
About 150m of trenches remain in the woods next to Dreghorn Barracks.
Local author and historian Lynne Gladstone-Millar, who is leading the campaign, hopes the site can be turned into an education centre and memorial.
The area was originally used by the British army as a training base to give young soldiers an idea of what could be expected of them while fighting on the western front.
The site has since become overgrown and the remaining trenches have been filled in with soil and leaves over the years.
Those working on the project said there was a lot of work to be done.
John Lawson, an archaeologist with the City of Edinburgh Council, said the trenches would have been at least 5ft in depth, and could have been deeper in places.
Ms Gladstone-Millar hopes they can become a poignant reminder of the past.
"They could make a marvellous visual memorial to these people who volunteered, and came and trained here, and never came back," she said.
'Hell on earth'
Ms Gladstone-Millar's father, William Ewart Gladstone-Millar, trained in the trenches at Dreghorn before being sent to France in 1916.
"I'm not sure anything could have prepared them for what they came up against over there. It was absolute hell on earth," she said.
Her father was shot in both legs, stranded in no-man's-land between the German and Allied lines.
Ms Gladstone-Millar said: "He had to crawl quite a long way, in the dark, on his elbows. It was dark. All hell was going on, guns firing, everything else.
"You might be shot again by the Germans. You might fall into a flooded shell hole, and you would drown because you couldn't get out.
"Or you could be shot by one of your own people. That was a massive hazard and it happened a lot."
Ms Gladstone-Millar's father survived WWI and was able to share his story with his daughter, and she hopes that the site can be used to pass on similar tales.
"I think it's a very good tool to show the younger generation," she said.
"This is what the First World War was like. I don't think they should be changed too much or dollied up. They look what they are."
Col Phil Bates, the commander of the Edinburgh Garrison, agreed that the site could provide a reminder of the past.
He said: "As we think about commemorating the start of World War One next year, I think this is a project that really does lead into that and give it some real relevance for the year ahead."
The Defence Infrastructure Organisation, Edinburgh City Council, and the University of Glasgow are all involved in the archaeological study.