Edinburgh Statutory Notice report reveals £27m gap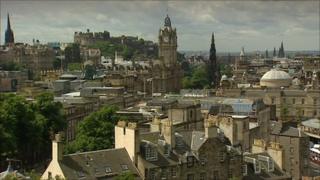 Edinburgh City Council has paid £27m to contractors for building work at private homes which it has not yet recouped from residents, a report says.
Unpublished reports by Deloitte, from which the BBC has seen extracts, said the property conservation department faced financial exposure in 2012 of £27m for "un-invoiced work".
The council had statutory notice powers to force homeowners to make repairs.
It said the Deloitte reports related to "historic" allegations.
Council employees have faced allegations of bribery, overcharging and unnecessary and poor quality work arising from statutory notices.
A total of 11 council staff have been dismissed and six suspended after complaints over procedures.
Statutory notices were supposed to ensure essential repairs were carried out on Edinburgh's historic tenements, given the absence of a factoring system of building maintenance in the capital.
Under the system, City of Edinburgh Council could intervene to organise repair work on private properties when the owners of shared buildings could not reach agreement.
The value of statutory notices issued by council surveyors increased from £9.2m in 2005 to more than £30m in 2010.
Edinburgh council commissioned a team of forensic accountants to investigate the allegations. The two reports, which were carried out by the accountancy firm Deloitte and cost about £2m, have never been published.
The reports acknowledge some good work in the department - with staff working under pressure - but it also sets out pages of failings, including:
£2.4m of work which may not comply with tendering procedures. In these cases the report says the council cannot show the costs to homeowners were reasonable
Repairs were carried out which were not necessary in the interests of public safety - which could mean homeowners having to pay for work they may not have needed
Little evidence of quality control and limited evidence of interrogation of contractors' final accounts which may have led to overcharging by contractors
A contractor obtained unauthorised access to a confidential payment system 850 times over a four-year period
Investigators also found that an internal report about the department from 2008 was destroyed before the external accountants could see it
Investigators said the shortcomings pointed to serious and wide-ranging management failure leaving the council exposed to a higher level of financial, legal and reputational risk.
'Confidential information'
Two former members of council staff who have contacted BBC Scotland claim that contractors rates were seen by some builders so they could undercut rival contractors.
One said: "I saw them in a contractors office. A contractor who had a lot to gain from having the rates."
Another employee, who also wanted to remain anonymous, said: "In one section of the property conservation department, a spreadsheet was drawn up including the accounts for each job. It was claimed there was £2.7m worth of work done yet only £1.3m could be identified.
"In one case it looks like someone just put the decimal point in the wrong place!"
But the findings of the report have been challenged by other council employees who called the Deloitte document "a £2m waste of public money" with many of the findings already identified by an internal audit.
They said: "Many of the points are wrong and taken out of context.
"The tendering was 110% above board, approved by the procurement and legal departments, and contractors weren't just writing cheques to themselves."
Mark Turley, director of services for communities at Edinburgh City Council, said: "The Deloitte reports are historic, and we have taken significant steps to tackle behaviour by staff and overhaul our management arrangements. We are also making good progress with addressing property owner complaints."
The council also said they intended to publish a version of the reports as soon as possible but have not done so to-date because of ongoing criminal proceedings and an internal disciplinary process.
Many homeowners in the city who have complained are still waiting to hear what their final bill is going to be, despite it being, in some cases, many years since the repairs were completed.