Cherry picker used to rescue stuck cat from tree in Dysart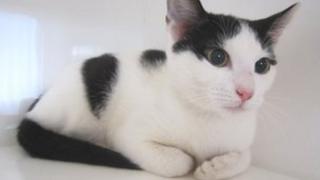 A cherry picker was used to rescue a cat after it got stuck 35ft up a tree in Fife.
It is thought that the female cat, who is about one year old, had been chased by a dog in Ravenscraig Park, Dysart.
Fife Council was called to help with the rescue because the Scottish SPCA did not have a big enough ladder to reach the animal.
The cat, who has been named Maple, has been cared for by the Scottish SPCA following the rescue on 7 February.
Thin branches
Kieran Smart, Scottish SPCA's animal rescue officer, said: "I think Maple may have been chased up the tree by a dog.
"She was standing on some very thin branches and I was concerned she may fall and land on the concrete below.
"Maple doesn't have a microchip and isn't wearing a collar so we're keen to hear from anyone who recognises her."
If no-one comes forward to claim Maple, she will be found a new home.