Robert Clyde jailed for raping woman and abusing girls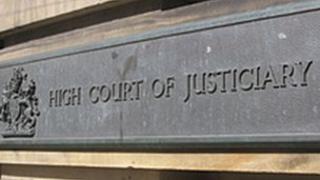 A man who repeatedly raped a woman and sexually assaulted four young girls over a 40-year period has been jailed for nine years.
The High Court in Edinburgh heard Robert Clyde, 69, was caught by police after raping a woman at his home in the city in January 2011.
Detectives then began investigating his past and found he started abusing children in November 1970.
Temporary judge John Beckett QC said he was a "serious threat to the public".
Clyde pleaded not guilty to the charges, with his legal team claiming that the evidence of his victims was unreliable and could not be trusted.
But after a week-long trial last month, a jury returned guilty verdicts to a string of rape, sexual assault and assault charges.
The court heard Clyde also physically assaulted two young boys over a 16-year period which began in January 1970.
One of his male victims was just four years old when Clyde started hitting him with a dog lead.
Collect evidence
During the trial, the court also heard how Clyde repeatedly raped his victim - who was in her 30s - in his Hay Gardens home on 21 and 22 January 2011.
When the woman contacted police an investigation was launched into her attacker.
Officers then discovered that Clyde had targeted a number of other women and managed to collect enough evidence to bring him to court.
All his victims were young children when the abuse took place.
The abuse against his first victim - who is now in her 50s - started in November 1970 when she was aged 10.
'Gravely serious'
Defence solicitor advocate Jim Stephenson told the court that his client refused to accept that he had abused the youngsters.
He said: "Mr Clyde still maintains his innocence.
"Given his age, he will have difficulty coping with a custodial sentence."
However, Judge Beckett told Clyde that he had to be punished for his crimes.
He added: "You have been convicted of a number of gravely serious offences. You present a serious threat to the public.
"I must impose a sentence on you that will punish you, protect the public and protect others from you."