Naked shopper fined after 'prank' in local store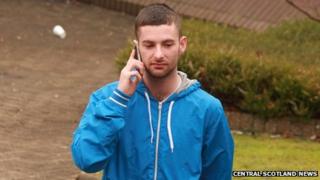 A man who walked into his corner shop naked to buy a packet of cigarettes and a bottle of wine has been fined £500 after admitting a breach of the peace.
Kevin Dickson, 24, said he had been dared to take off his clothes as a "prank" following a day of drinking.
Staff at the JK Mini Mart in Inverkeithing served Dickson, a regular customer, and he left the premises still naked apart from trainers.
But police were called, leading to a Dunfermline Sheriff Court appearance.
Dickson, who lives with his father in Inverkeithing, was originally charged with public indecency.
However, the Crown agreed to reduce the allegation to an offence of breach of the peace, causing fear and alarm to those in the shop by entering with no clothes on.
Defence agent Alistair Macleod said: "I think the Naked Rambler has a lot to answer for."
'Went off chuckling'
That was a reference to Stephen Gough, who twice walked naked from Land's End to John O'Groats, was in prison in Scotland almost without a break from 2003 until May 2006 and whose most recent conviction north of the Border was in Dunfermline.
"My client was outside the shop with a friend," said Mr Macleod. "They had been drinking.
"The suggestion was he go inside and buy wine and cigarettes without his clothes.
"The staff knew him and weren't overly concerned.
"When he got back outside, he put his clothes back on and went off with his pals, chuckling about the ridiculous prank.
"He now realises it was wrong and apologised to the shop workers afterwards."
Azrah Yousaf, prosecuting, said the incident occurred on a Sunday evening last autumn, when Dickson and friends had run out of alcohol following an all-day drinking session.
"The accused was seen to enter the shop at 7.15pm," the depute fiscal said.
"Two members of staff became aware that he was naked apart from a pair of trainers.
'For a laugh'
"He was recognised as a regular customer of the shop.
"One of the shop staff offered him a plastic bag to cover up, but he declined. He asked for cigarettes and wine, which they gave him.
"He was later detained by police and he said he had done it 'for a laugh'.
"He said he had been dared to do it by friends.
"He said he had been drinking for the best part of the day and showed remorse when he was sober.
"He accepted that young children could have seen him naked but said he had not done it for any reason of sexual gratification."
The court was not told who reported him to the police.