Castlebrae Community High School closure recommended by report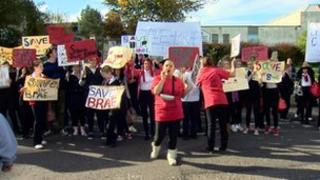 A report into the future of a community high school in the Craigmillar area of Edinburgh has recommended closing it.
City council officials said they believed children would get a better education by transferring from Castlebrae High to other schools.
Councillors will decide at a meeting on 14 March whether it should close at the end of the school year.
Castlebrae has some of the worst exam results, truancy and exclusion rates in the country.
The school, which is in an area dogged by unemployment and health problems, currently has just 165 pupils on its roll - some 28% of its capacity - with only 17 S1 pupils.
Parents and pupils have been campaigning to keep it open.
Ahead of next month's meeting, the council has published a report outlining the consultation process that was carried out on the issue.
It concluded that pupils at Castlebrae continued to receive a "very poor" education as a result of the very low roll, and that the needs of young people in the Castlebrae catchment area would be better met at neighbouring schools where there is capacity to do so.
It recommended that current pupils at Castlebrae Community High School would be offered a place at Portobello High School, although parents could choose to send their children to other city schools if places were available.
The council's director of children and families, Gillian Tee, said she believed there was a strong case for closure.
She added: "I am recommending the closure of Castlebrae Community High School as, with all things considered, I strongly believe that pupils will receive a better education elsewhere.
"This is not a recommendation which has been made lightly; all responses received and views expressed during the extensive consultation process have been carefully considered.
"For those issues that were raised we have looked at the impact and whether we can provide solutions to ensure concerns are addressed.
"Should the closure be agreed we will work tirelessly to ensure the proposals I am putting forward will help address these concerns and ultimately ensure the best outcome for the young people of Castlebrae and the wider community."
In its recent budget, the council reaffirmed its pledge to build a new, modern secondary school in the Craigmillar area, which it projects will be required in 2020 as regeneration brings more families into the area.