Edinburgh Castle plan for wall as protection against rock falls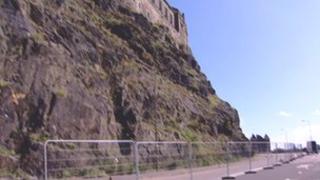 A new £1m wall is to be built around the base of Edinburgh Castle to protect the public from falling rocks.
The 3m (9ft) high barrier will be built at the bottom of Castle Rock and run 170m (500ft) along Johnstone Terrace.
There have been several rock falls in the area, the most recent in August, when vehicles were damaged.
Historic Scotland will start building a temporary fence next month while they consult on what the permanent wall should look like.
Barbara Cummins, who is overseeing the project as director of heritage management at Historic Scotland, said: "Firstly, it is important to stress that this work is not in response to any increased risk of rock falls.
"This is part of a long-term strategy we have been rolling out over the last few years to improve the safety of the rock which involves taking a pro-active approach to minimising the potential for any loose rocks caused by erosion or weathering to reach the ground.
"These proposals will ensure our commitment to public safety around the castle is enhanced.
"We are about to embark on a consultation process involving numerous community groups and stakeholders to inform them of the proposal and encourage their input to the wall's design."
It is hoped the new permanent wall could be in place by the end of 2014.
Royal restrictions
Meanwhile, a report to Edinburgh City Council planners has recommended further restrictions on vehicles on the city's historic Royal Mile.
It follows a summit between officials, residents and traders last year.
The report says stopping or restricting access for car and buses along sections of the street could help improve the area for pedestrians and tourists.
Tourist buses could also be prevented from stopping or re-routed along other streets.
A consultation on this is due to start next month and the measures could be in place next year.