Rosslyn rapist Robert Greens sent back to jail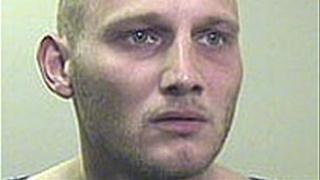 Rosslyn rapist Robert Greens has been ordered to serve another year of his original jail sentence after breaching a Sexual Offences Prevention Order.
Greens, 35, was seen in the Midlothian town of Penicuik on 24 October, in breach of the order, which banned him from going there.
He was returned to jail by the same judge who sentenced him in 2006 for the rape of a 19-year-old Dutch student.
Greens was released early last year on strict conditions.
He was sent back to jail because he was still in his licence period when he made the breach.
A planned trial was halted when Green admitted the SOPO breach - which carries a possible maximum sentence of five years, in addition to the 12 months imposed on Wednesday.
Greens original jail term was for raping the student, from the Netherlands, who was spending a gap year in Scotland.
She decided to visit the historic Rosslyn chapel in Midlothian, that featured in the bestselling Dan Brown book "The Da Vinci Code" and the film of the novel, which starred Tom Hanks and Audrey Tatou.
'Worst rapes'
Judge Lord Mackay heard Greens threw his victim down an embankment and beat her so badly that a passing motorist who came to her aid thought she had been knocked down by a car.
Greens, then living in Mayfield, Dalkeith, had been drinking and smoking cannabis after finishing work as a peat cutter.
Det Insp Ronnie Millar, of Lothian and Borders Police, said it was one of the worst rapes he had seen and might have ended up as a murder.
Greens was released last year after serving six years and eight months of a 10-year sentence.
His nine months of freedom ended when he was spotted, on his bike, near a Tesco supermarket in Edinburgh Road, Penicuik, in October.
Solicitor advocate Simon Collins said Greens had been looking for his sister in connection with a court case involving his brother.
The lawyer said there had been no risk of Greens committing the sort of offence the SOPO was designed to prevent.
"This is not a return to offending at any level comparable to the offence which brought the original sentence," said Mr Collins.
"But he knew he should not have been there," the lawyer said.
Before his latest arrest Greens was living in Bonnyrigg, Midlothian. During his stay hundreds of locals have marched close to his home against him living there.