Edward McPhillips jailed for child rape and assaults in West Lothian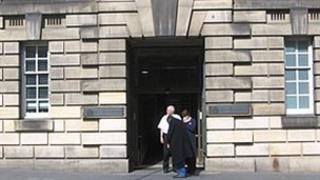 A West Lothian man who raped a teenager and sexually abused three other young women over a 17-year period has been jailed for seven years.
Edward McPhillips, 53, raped a 15-year-old on an occasion between 1 December 1986 and Christmas Day 1986, the High Court in Edinburgh heard.
McPhillips assaulted the girl, who cannot be named for legal reasons, at an address in Bathgate.
He was found guilty earlier this month and has now been sentenced.
The court heard that McPhillips also attempted to rape the schoolgirl on various occasions between New Year's Day 1985 and 25 December 1986.
Public safety
McPhillips, from Bathgate, sexually abused a 12-year-old girl, who also cannot be named, between 30 September 1977 and 29 September 1978 in West Lothian.
The court heard the attack took place at an address in West Lothian.
He sexually assaulted an eight-year-old girl on an occasion between 11 July 1979 and 10 July 1981 at an address at a location near Edinburgh.
The court also heard that McPhillips abused a five-year-old girl on an occasion between 3 January 1993 and 2 January 1994.
Judge John Beckett QC said McPhillips was a danger to public safety and told him he had to be jailed.