Archbishop Philip Tartaglia speaks of 'painful times' for Catholic Church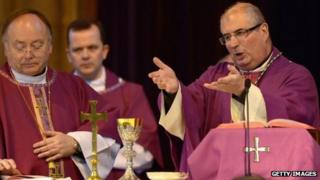 The Archbishop temporarily replacing Cardinal Keith O'Brien has spoken of the "painful and distressing times" affecting the Catholic Church.
Archbishop Philip Tartaglia celebrated mass at St Mary's Cathedral in Edinburgh earlier.
It was his first service as administrator of the Archdiocese of Edinburgh and St Andrews.
Cardinal O'Brien is contesting allegations of inappropriate behaviour made by four priests in the 1980s.
Cardinal Keith O'Brien stepped down on Monday amid allegations he behaved "inappropriately" to three serving priests and a former priest.
Archbishop Philip Tartaglia said worshippers were having to bear the impact of sad events and disturbing media reports.
In a message to the Archdiocese of St Andrews and Edinburgh, Archbishop Philip Tartaglia writes: "These are painful and distressing times for this venerable Archdiocese.
"You have lost your Cardinal Archbishop in the most difficult of circumstances.
"I am so sorry for everyone involved and I assure them of my prayers. I too feel pained and distressed."
'Unfortunate circumstances'
He added: "The people of the Archdiocese are having to bear the impact of these sad events as you go about your daily lives in your communities and at work.
"You have to cope with disturbing media reports and you have to face the questions, the critical comments, the unkind remarks and the jibes.
"I want you to know that Bishop Robson, the priests of the Archdiocese and I are one with you in these unfortunate circumstances, and thank you for your faithfulness and love of the church.
"With the grace of God, I will do my very best to oversee and govern the Archdiocese until the appointment of a new Archbishop."
He added that he had appointed Bishop Stephen Robson as his delegate in the "day-to-day governance" of the archdiocese.