BHS cleared after customer fell into manhole at Princes Street store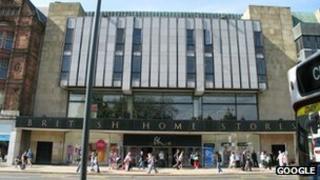 A retailer has been cleared of breaking health and safety laws after a woman fell down a manhole at its store in Princes Street, Edinburgh.
The crown claimed there had been negligence on the part of British Home Stores staff.
However, the store was found not guilty of two charges of breaching health and safety regulations.
Customer Mollie McGregor, 77, was injured after she fell down a manhole at the shop on 15 January 2009.
Earlier the court heard from Francis McCann, 65, a plumber, who was working in the Princes Street store when the incident happened.
He told the court he was working on clearing blocked drains in the shop at the time.
He told the court he and his grandson Stephen had lifted a manhole cover in the shop so they could check what was causing the plumbing problem.
The court heard cones had been placed around the hole.
No permission
Mr McCann told the court: "I heard somebody shout 'help'. There was a lady, quite an elderly lady. She had stepped into a manhole.
"Her arms were on the floor, she was obviously trying to protect herself. I don't think she slipped into it. I think she stepped into it."
But the court heard from staff at British Home Stores who said they did not give Mr McCann any permission to carry out the work there.
Defence QC Peter Gray argued there was no evidence available to prove the company had given Mr McCann permission to carry out the work.
Mr Gray said consequently the firm could not have committed the crime. He urged Sheriff MacKinnon to acquit British Home Stores.
Sheriff MacKinnon agreed and acquitted BHS.