Edinburgh Lawyer Richard Housley jailed for money laundering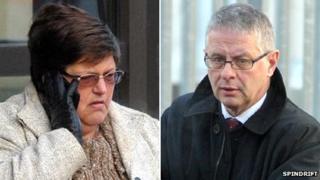 An Edinburgh lawyer who betrayed his profession by helping a multi-million pound fraudster has been jailed for four years.
Richard Housley, 57, was sentenced at the High Court in Edinburgh along with book-keeper Caroline Laing, 55, who was jailed for two-and-a-half years.
Both had helped hide £1.8m for Michael Voudouri, 45, from Bridge of Allan.
Voudouri was also due to be sentenced in January, but he had jumped bail. A warrant has been issued for his arrest.
He had admitted putting the proceeds of so-called "carousel fraud" into bank accounts in Cyprus, Greece and Switzerland.
Housley and Laing were convicted at the end of a three-month trial at the High Court in Glasgow.
Hide money
The court heard that Housley, who worked at the time for Gebals Solicitors based in Bathgate, West Lothian, first got to know Voudouri in 2002.
Housley was later invited to become involved in a business used as a front by Voudouri and others to hide money from the authorities.
The court heard that Housley's legal career had been "in ruins" since his home was raided by tax inspectors in 2007 and he will never work as a solicitor again.
Defence advocate Michael Moir said Housley had not been able to get a licence to work as a taxi driver.
Jailing him, Lord Tyre told Housley that solicitors should be "gate-keepers" to prevent money laundering and act with "honesty and integrity".
"They are trusted to do so by the law enforcement agencies and by their fellow lawyers," said the judge.
Personal bank account
"In relation to the matters before me, you have fallen short of the standard required of a member of the legal profession."
Housley had been found guilty of a breach of the Proceeds of Crime Act, failing to notify the authorities of his suspicions and fraudulently obtaining more than £56,000 by falsely claiming his wife was working for his Bathgate-based law firm, Paul Gebal and Co.
Laing, from Denny in Stirlingshire, had allowed her personal bank account to be used in the money laundering, the trial heard.
Lord Tyre told her: "At your trial, you gave evidence that you were an unwitting victim of Michael Voudouri's dishonesty.
"Clearly the jury did not accept that."
The judge told Housley that, because of the length of time he was involved, from February 2003 to February 2005, and the amount of money involved, he too must go to prison.