Professional dog walkers required to apply for permits in Edinburgh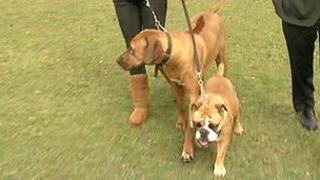 Professional dog walkers in Edinburgh are now required to register with the council under new city rules.
Edinburgh is the first local authority in Scotland to manage commercial dog walking in this way.
The local authority has been working with local professional dog walkers to draw up a code of conduct that they will be required to follow.
The move follows concerns raised about the control and supervision by some professional dog walkers.
The rules require walkers to commit to adhering to a code of conduct in order to obtain a free permit.
Lesley Hinds, Edinburgh City council's environment convener, said: "Requiring professional dog walkers to register with us shouldn't cause any major issues to the majority of professionals who already practice in a safe and responsible manner.
"By subscribing to the code, professional walkers can minimise their impact on the parks and other users, set a positive example to other dog walkers and deliver a safe and quality service for their clients."
Bruce Thomson, spokesman for the City of Edinburgh Council's professional dog walkers association, said: "Edinburgh professional dog walkers provide a valued service to busy working people, the elderly and the infirm.
"As part of the local business community, we recognise the need for good practice which benefits all users of our parks and green spaces."