Protesters rally against Castlebrae High School closure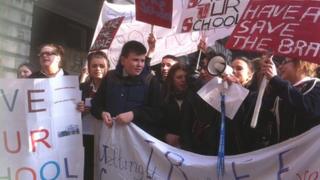 Pupils and supporters have staged a demonstration outside Edinburgh City Chambers in protest against plans to close Castlebrae High School.
Councillors are due to vote on the closure on 14 March.
They will also be voting to create a new catchment area that will encompass both Portobello and Craigmillar.
Protesters believe that if Castlebrae closed, the new catchment area would not be able to meet the demand from pupils from August 2014.
Despite Portobello High being the biggest school in the city, with a capacity for 1,400 pupils, they fear it would not be big enough.
Save the Brae have been holding a rally to coincide with Edinburgh City Council's education, children and families committee meeting.