Boy, 9, was asked to get into strangers' car in Baberton Mains Hill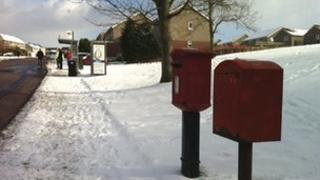 Police are investigating after a nine-year-old boy was approached by two men who asked him to get into their car in Edinburgh.
The incident happened in Baberton Mains Hill between 12:10 and 12:20 on Friday.
The boy was on his way home from school on his scooter when a small to medium-sized black car with two men inside pulled up alongside him.
They asked the boy to get into the car but he refused and ran home. He alerted his parents, who contacted police.
Officers are now trying to trace the men to find out why they stopped the boy, and are exploring a number of lines of inquiry, including CCTV footage.
Police have increased uniformed patrols in the area and are urging anyone with information about the incident to come forward.
Ring tattoo
The male passenger was described as being dark skinned, with dark hair which was greying around the temples and a dark moustache.
He was wearing a fluorescent yellow/green Adidas tracksuit top with black stripes down the sleeves and had the black tattoo of a ring on his left index finger.
The driver was also described as being dark-skinned.
There were scratches on the rear of the vehicle, which had a black interior with red stripes and furry dice hanging on the rear view mirror.
Insp David Hynd, of Lothian and Borders Police, said: "Thankfully the child was unhurt in this incident. However, he is understandably shaken by these events.
"This appears to be an isolated incident, and there may be a genuine reason why the men spoke to the boy.
"However, at this time we are doing all we can to establish the circumstances."