Scottish museums record top year for visitors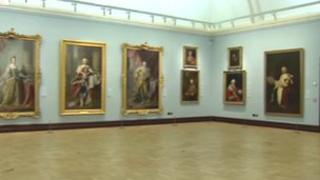 Scottish museums have enjoyed a record year for visitors, according to figures published by the Association of Leading Visitor Attractions.
The National Museum of Scotland is the first Scottish attraction to make it into the UK top 10, with a 29% increase to 1.8 million visitors.
Of the 30 attractions in Scotland, 12 saw an increase in visitor numbers.
The biggest rise was at the Scottish National Portrait Gallery, which was refurbished in 2011.
It saw an increase of 520%, comparing September 2011 with September 2012.
Wet weather
The Scottish National Gallery of Modern Art saw a 4.5% increase in visitors, while the People's Palace in Glasgow achieved a 24.6% increase, and Glasgow Museums Resource Centre saw a 23.5% increase.
Indoor venues across the UK did better overall as wet weather caused a dip in visits to gardens and outdoor attractions.
Boosted by the success of its Hollywood costume exhibition, the Victoria & Albert Museum (V&A) in London had its best-ever year.
With Judy Garland's dress from The Wizard of Oz and Keira Knightley's emerald green costume from the film Atonement on display, the V&A welcomed more than 3.2 million visitors in 2012 - a 16% increase on 2011.
Visitor economy
Edinburgh Castle was the second most popular paid-for attraction outside London and the most popular in Scotland with 1,230,177 visitors.
Kelvingrove Art Gallery and Museum in Glasgow also did well last year, seeing a 5.8% increase to more than one million visits.
Bernard Donoghue, Alva director, said: "The continual refurbishment in Scotland's cultural and attraction sector, to locations such as Stirling Castle and the Scottish National Portrait Gallery, is still making a huge contribution to the visitor economy."
He said: "However, it was the weather rather than the displacement effect of the Olympic and Paralympic Games that took its toll on gardens or outdoor attractions throughout Scotland - as the very wet weather, combined with high petrol prices for travel to rural locations, which put many people off taking day visits."