Fife bodies: Jennifer Rennie murdered and Scott Simpson found dead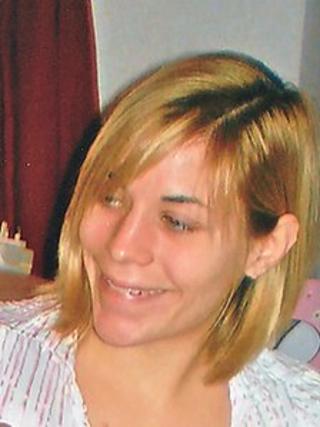 Detectives are investigating the murder of a woman in Fife and the death of her ex-partner.
The body of Jennifer Rennie, 26, was found in Rosyth and the body of Scott Simpson, 41, was discovered in Dalgety Bay on Monday.
Their children, a one-year-old boy and a girl aged 5, are being cared for by relatives, officers have confirmed.
Fife Constabulary found Ms Rennie's body at 07:45 on Monday in Findlay Street in Rosyth.
In a statement issued through police, her family said: "Jenny was a loving mother, daughter, granddaughter, sister and friend.
"She was a friend to everyone and will be sorely missed.
"We are all devastated by what has happened and would now ask to be allowed some privacy to grieve at this sad time."
Neighbours have spoken of their shock after two people died in related incidents in the Fife towns of Rosyth and Dalgety Bay.
Rosyth resident Marie Barr told the BBC: "You hear rumours - I'd heard that there had been a murder but it wasn't until I actually saw the papers this morning... it is quite a decent area to live in."
She added: "Obviously it was a domestic because she'd obviously packed up, she'd left him a couple of months ago."
Katy Stevenson said: "There's kids left behind without a mum. It's just really, really sad."
Neighbour Lewis Davis was alerted by the presence of police in the street.
He said: "It's absolutely tragic, the loss of two lives has got to be heartbreaking, whatever the situation.
"Every town, no matter how quiet you think it is, there's going to be something probably happening behind closed doors. You just never know.
"It's devastating for the community. This is a fantastic community. We take kids out on the street and it's a great place to live - it's a place you want to raise a family."
The investigation is the first case being conducted by the specialist crime division of Police Scotland, the new national police service officially comes into service in April.
Det Supt Gary Flannigan, of Police Scotland's specialist crime division, said: "We are dealing with the murder of Jennifer Rennie and the death of Scott Simpson.
"We need to be professional in the way we deal with this but we are not looking for anyone else.
"There is no safety issues to the wider public, you will continue to see a police presence in the days ahead and if you have any information, which you think is relevant, we would be grateful if you would come forward and share that.
"This is a tragedy involving two families and two young children."