Edinburgh's Caltongate Old Town plans unveiled by Artisan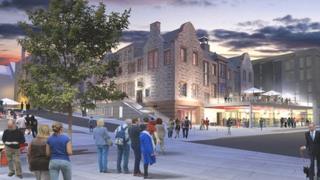 Plans for the Caltongate site in Edinburgh's Old Town have been unveiled showing new hotels, shops, homes and offices.
South Africa-based Artisan is the new developer behind the proposals for the New Street/East Market Street site.
The gap site has lain empty since the original developers Mountgrange collapsed four years ago.
The plans can be seen at Edinburgh's Canongate Venture building on Thursday until 20:00, and Saturday until 12:30.
The site covers an area between Waverley railway station and the Royal Mile.
The new proposals are the result of a 12 month consultation with local people, civic partners and heritage bodies.
Height reduced
Many facets of the area's unique Old Town setting are set to be retained to preserve the character of the development.
They include keeping the Canongate Venture building and the facade of the Old Sailor's Ark.
The historic views of Calton Hill from the Royal Mile will be preserved and the Jeffrey Street arches are set to be opened up as small, individual 'artisan' units.
Officials said compared to previous planning consents for the site, dating back to 2008, the massing and overall height of the new proposals has been reduced, with the current plans providing more open public spaces and the larger commercial buildings being broken up into more intimate, individual units that improve the overall look and feel of the area.
Lukas Nakos, Artisan's Managing Director said: "We have the opportunity to create, in the very heart of Edinburgh, one of Europe's most exciting and vibrant mixed-use communities which will set an international benchmark for sensitive and innovative development.
"During the last year, we have listened to a huge variety of views and opinions on the development of the site, and heard impassioned arguments relating to its unique importance, setting, heritage and community.
"Our new vision reflects this varied and dynamic consultation process and we feel we now have a proposal which balances ambitious and exciting commercial priorities with a genuine understanding of the area's community and civic context."
A detailed planning application is due to be submitted later this year.