Cash and assets seized from proceeds of crime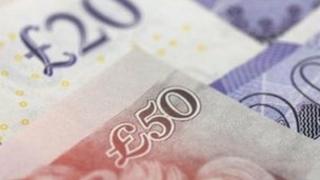 More than £225,000 of cash has been taken from suspected criminals and £7m worth of assets have been referred for seizure by police.
It is one of the largest operations ever undertaken by police in Scotland.
Drugs worth 316,000 and £25,440 worth of stolen goods were also seized during the "Made From Crime?" campaign.
Between Wednesday and Friday, 78 addresses were targeted and 74 people were arrested throughout Central Scotland, Fife and Lothian and Borders.
Two vehicles were also seized.
The initiative aims to target those making money illegally through crime.
For the past three days 400 uniformed and detective officers across the east of Scotland have been actively pursuing suspects.
Marketing materials and a 20ft ad-trailer were situated across the east of Scotland and Facebook adverts, that were geo-targeted to people living in the area, ran throughout the six-week operation.
Throughout the campaign, launched in January, Crimestoppers reported a 31% rise in all calls across the east of Scotland area.
This intelligence was gathered and analysed by officers before the latest enforcement action this week.
The joint working between Central Scotland Police, Fife Constabulary and Lothian and Borders Police comes in advance of the Police Service of Scotland launching on 1 April.
'Lavish lifestyles'
These forces will join to form "East Command", and are already beginning to share services and resources under the Specialist Crime Division.
Det Supt David Gordon, head of serious organised crime for the Specialist Crime Division (SCD) in the east of Scotland, said: "This campaign was deliberately designed to be ambitious and tenacious and target criminals who believed they could live lavish lifestyles from the proceeds of crime.
"The response we had from local communities throughout the intelligence-gathering phase was fantastic, and showed that they were not prepared to tolerate criminality in their area.
"Criminals have no regard for boundaries and borders and the SCD is giving us increased flexibility to go where they go, and target them where they operate in a leaner, meaner and sharper way."
Justice Secretary Kenny MacAskill said: "There should be no hiding place in our neighbourhoods for those who cash in on crime and this will continue to be a top priority for this government and the new single police service when it goes live shortly."