Easyjet starts new routes from Edinburgh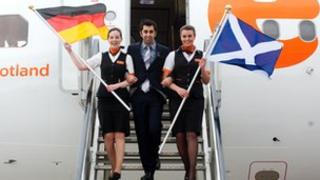 EasyJet has marked the launch of its Hamburg route by flying a Scottish trade delegation to the German city.
Representatives from 10 businesses earlier took the airline's inaugural flight from Edinburgh for a two-day visit.
EasyJet announced six new routes from the capital last October.
The routes are to Hamburg and Berlin in Germany, Prague in the Czech Republic, Copenhagen in Denmark, Reykjavik in Iceland and Dubrovnik in Croatia.
Politicians and business leaders welcomed the expansion as a potential boost to the economy through improved trade and tourism links.
VisitScotland hailed the Hamburg connection in particular, with German visitors making up the biggest number of European tourists to Scotland.
Build business
Germany is also Scotland's number four export market, worth £1.3bn a year to businesses.
External Affairs Minister Humza Yousaf unveiled a new aircraft dedicated as "Discover Scotland" at the airport at the official launch of the company's routes earlier.
Mr Yousaf said: "EasyJet's new route from Edinburgh to Hamburg will help build Scotland's business and cultural links with Germany's second-largest and most prosperous city, providing greater opportunities for co-operation between our two nations."
EasyJet's Scottish head, Hugh Aitken, said: "EasyJet is committed to providing Scotland with an ever-wider range of holiday and trading destinations and we look forward to welcoming passengers on board the new services."