Cat re-united with owner after 130-mile road trip to Aberdeen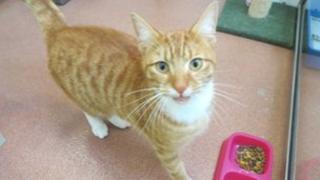 A West Lothian pet owner has been reunited with her cat after it hitched a ride to Aberdeen in the back of a van.
Two-year-old Tigger was found by the driver in his van the next day following the 130-mile road trip from Livingston.
He took Tigger to the Scottish SPCA Aberdeenshire animal rescue and re-homing centre.
The cat was reunited with his family because he was micro-chipped.
Iain Binnie, 35, had been clearing furniture out of a relative's home in the Dedridge area of Livingston when Tigger jumped into the back of his hired van.
He returned to his home in Aberdeen later that night but only discovered Tigger the following morning when he opened the van to find the cat sitting at the door meowing.
Tigger has now been returned home to Leanne Jamieson, 33, and her daughter Jade, 10.
'Comfy bed'
The Scottish SPCA's assistant manager, Debbie Innes, said: "Tigger was none the worse for his wee journey north.
"He enjoyed a comfy bed and some good food in our care before we were able to return him home.
"This just goes to show how important it is to microchip your pets as this is the most reliable way of ensuring your animal is returned to you should it ever go missing."
Ms Jamieson said: "My daughter, Jade, was quite upset when she found out Tigger had managed to travel all the way up to Aberdeen.
"This isn't the first time he's gone missing. He's quite a greedy boy and a neighbour nearby was feeding him.
"She believed he was a stray as he kept coming back for food.
"He ended up being picked up and taken to a cat rescue in Bonnyrigg.
"Jade put up posters all round the street looking for Tigger, but thankfully he was returned to us soon after."