Police probe suspicious fires in Bingham Way, Edinburgh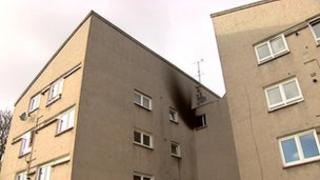 A police investigation has been launched after two fires broke out within days of each other in the same block of flats in Edinburgh.
Residents of the building in Bingham Way were rescued after a fire started in the common stair at 06:00.
There was a similar blaze 10 days earlier, on 11 March.
A Lothian and Borders Police spokesman said it was believed the fires were started deliberately and the force appealed for witnesses.
The spokesman added: "Police are investigating a deliberate fire-raising that happened within the common stair of a block of flats in Bingham Way at 6:00.
"A number of residents had to be evacuated from the building as a result of the blaze, and police are appealing to anyone who noticed any suspicious activity in the area to get in touch.
"A similar incident, which occurred at the same block of flats on Monday, 11 March is also under investigation."