Trapped driver rescued from lorry blown over near Leadburn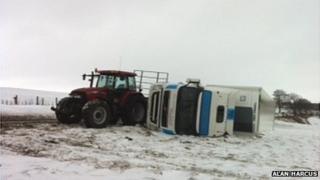 A trapped driver had to be rescued from his overturned articulated lorry when it was blown over into a ditch in the Scottish Borders.
The accident happened at 08:30 on the A701 south of Leadburn.
The man received minor whiplash injuries and the road was closed for two hours for a police investigation to take place.
Tractors are now being used to move the lorry and pull it upright.