Edinburgh International Science Festival looks to the future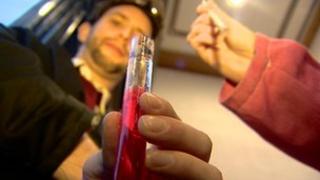 The Edinburgh International Science Festival has got under way.
This year marks the 25th anniversary of the event which began in 1989. The festival runs until 7 April.
The focus will be to look forward at what the next quarter of a century will bring and how science and technology will contribute to our future.
Festival director Simon Gage said: "For two weeks we transform Edinburgh into one of the world's greatest playgrounds for the restlessly curious."
Dr Gage added: "Come and join us on a one way trip to Mars or look into the future of our food where we ask if we should be eating aliens or insects, help us explore the future of our cities and find out why play keeps us young.
"We invite you to explore literally hundreds of new ideas across the festival."
Eating insects
When the Edinburgh International Science Festival began it was the first of its kind in the world.
In 1989 there was no world wide web, we had not yet discovered the universe was 13.7 billion years old, thanks to the Hubble telescope, and we did not have Dolly the Sheep.
With challenges ahead such as the potential of food shortages the festival looks at whether we will all be eating insects or synthetic meats.
More than 200 scientists will gather to discuss and debate with hundreds of events on too that aim to help us all realise the relevance of science.