Gas spark danger forces evacuation in Fife village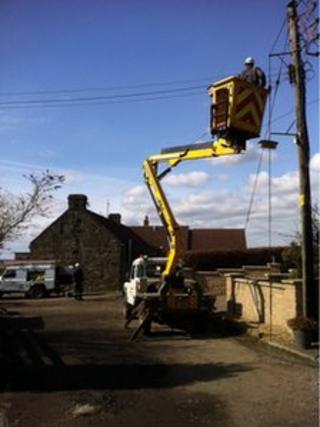 Thirty people have been moved from their homes by a leaking gas main close to a sparking electricity pole.
The incident, involving 20 properties in Balcurvie in Fife, began at about 23:50 on Saturday.
Firefighters called to the village's Main Street found the electricity pole on fire, with sparking from a cable leading to it.
Gas was found to be leaking from a gas main nearby. Scotland Gas Networks disconnected the mains supply.
Gas engineers asked for time to check all the affected properties before residents are allowed to return.
A spokeswoman for Fife Fire and Rescue said: "Around 30 people had to leave their homes due to a problem with the electricity and gas supply in Main Street, Balcurvie.
"There was a problem with the mains feed from the overhead power lines, which was affecting gas meters in the properties, which could have been dangerous.
"Fire crews were on standby in case any problems emerged."
The gas leak was originally thought to have been made safe an hour after the incident began, but engineers asked for more time to check houses in the village.
A Fife Police spokesman said: "Scotland Gas Networks arrived and disconnected the gas supply, and at 12.50am they deemed the houses safe to return to but without any gas supply.
"However, at 3.30am the gas board changed their mind and said they wanted to check the houses before people could return."
Teams from Scottish Power and Scotland Gas Networks were still working in the area on Sunday.
A Scotland Gas Networks spokesman said: "We were called at 11pm last night to a reported smell of gas, and it then transpired that there seemed to be an electrical fault that was also affecting the gas."
The majority of the householders were given clearance to return to their homes shortly before noon on Sunday.
A Scottish Power spokeswoman said the problem may have been caused by livestock rubbing themselves up against the supports on the electricity pole.
"There was a fault in the overhead network caused by the contacts at the top of the pole coming loose and crashing against each other," she said.
"This may have been caused by livestock rubbing against the stay (supports), causing the pole to come loose.
"The contact in the overheads fed into the underground network, affecting the earth wire feeding into one of the properties and when it sparked it damaged the plastic gas pipe feeding into the property."