Incoming tide traps Cramond Island walkers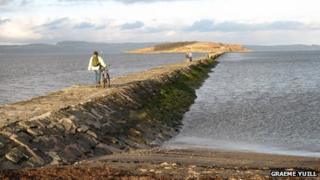 A group of seven walkers, including a number of children, have become stranded by the incoming tide at Cramond Island on the Firth of Forth.
The Queensferry lifeboat was launched at about 14:30 to assist them back ashore.
Access to the island is by a causeway which is uncovered at low tide.
The coastguard said the last safe crossing time on Sunday was at 13:45. The causeway was due to be uncovered again at 22:17.