Man and dog rescued from harbour in Burntisland in Fife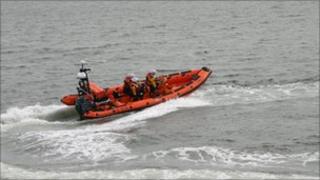 A dog has been rescued by lifeboat crews from the sea after he fell into a Fife harbour.
The dog's owner had tried to save the Rottweiler from the east dock in Burntisland, Fife, but could not reach his 9.5 stone pet.
The owner then called for help from the Kinghorn RNLI Lifeboat crew.
The man was also rescued from where he had climbed, six metres below the quayside. The man and his dog were said to have been cold but unharmed.
The lifeboat crew was launched at 23:40 on Sunday.
Lifeboat helmsman Neil Chalmers said: "The temperature last night was around minus one, and there was ice on the lifeboat when we returned to station.
"The man did the correct thing by requesting assistance to rescue his dog.
"We would always recommend calling the emergency services in this situation.
"Entering the waters of the Forth at this time of year without the proper clothing and equipment could lead to tragic consequences."