'Iain Banks' bad news travels fast'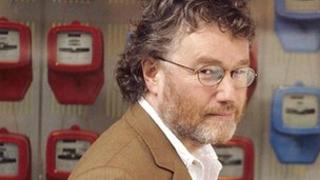 Bad news travels and Scotland's literary scene is small enough to make it swift.
With Twitter, even swifter, and no less shocking when the news came today that one of its best known writers, Iain Banks has terminal cancer.
From book festivals and other writers, to fans who only knew his cheery bearded face from the photo at the back of his books, people were quick to respond.
Fellow writer Val McDermid said "the news was a chill blast of sorrow and grief for the loss of the man and the books he'll never have the chance to write."
Edinburgh International Book Festival director Nick Barley said although Banks would not be able to make his regular visit there "one way or another he'll be the star of the show".
Author and journalist, India Knight has tweeted that "people should write of their love for his books now".
'Very modern'
And a number of tweets direct people back to Iain Banks' own website where they can add their own thoughts.
And that's perhaps, the benefit of this very modern announcement.
The news is spread quickly and accurately. Fans and friends alike have a chance to show their support now, with the humour and warmth Iain Banks has always been famous for.
The announcement on his website today was carefully timed. He has just married his long term partner Adele and is on honeymoon.
He may miss the media fallout from his announcement but I'm sure he will return to a vast number of messages of support on his website.
A reminder of why he is one of Scotland's best loved writers. When he is still around to appreciate it.