Party gatecrasher Gary Holgate jailed for punching Jamie Cook in Midlothian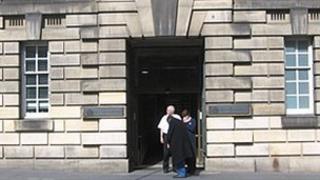 A gatecrasher at a house party in Midlothian who almost killed a man with a single punch has been jailed for four-and-a-half years.
Gary Holgate, 22, had been on bail six times before the attack at a house in Gorebridge on 26 October 2012.
Holgate punched Jamie Cook, 24, putting him in intensive care.
Holgate, from Musselburgh, East Lothian, admitted assaulting Mr Cook to the danger of his life, leaving him scarred and permanently impaired.
At the High Court in Edinburgh, advocate depute Douglas Fairley QC told judge Lord Bannatyne Holgate already had a record for breach of the peace, violence and breaching court orders.
He has been jailed twice for assaults and is currently serving a 28-month jail term.
Mr Fairley said Mr Cook and friends had been working as beaters in the Pentland Hills and towards the end of the afternoon went to a house in Gorebridge with a carry-out.
Later they were joined by other friends. Mr Fairley said Holgate arrived, uninvited, about 22:30 and appeared to have been drinking.
He said: "The accused and Mr Cook began arguing in the living room. The accused then punched Mr Cook to the face, resulting in him landing on his back on the floor."
Holgate then left the flat and Mr Cook was taken to Edinburgh's Royal Infirmary.
While in the hospital's accident and emergency department Mr Cook's nose started to bleed and he began to lose consciousness.
'Significant scar'
A CT scan revealed bleeding inside his skull .
After an emergency operation, Mr Cook spent a day in intensive care. He was in hospital for a week.
Three days later he had to return to hospital suffering from headaches and swelling to his wound.
Mr Fairley said the surgery had left Mr Cook with "a significant scar" extending from his ear to the middle of his head.
"The injuries to Mr Cook were life-threatening in the absence of surgical intervention," added the prosecutor.
Solicitor advocate Krista Johnston, defending, said Holgate had expressed remorse for what had happened to Mr Cook and for causing an "extremely regrettable" injury.
Lord Bannatyne ordered the prison sentence to begin at the end of Holgate's present jail term and extended the time he will remain on licence, after his release, by two-and-a-half years.