Edinburgh Zoo encouraged by panda hormone test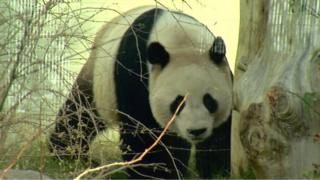 Edinburgh Zoo has said hormone changes in its female panda indicate she will come into heat within days.
A hormone "crossover" suggested she will be fertile in about 11 days, but staff believe it could be sooner.
The female panda, Tian Tian, will then be put into the same enclosure as male panda Yang Guang.
The pandas failed to breed in 2012 but the zoo is using thermal imaging technology to monitor the pair this time - a world first.
The zoo's Director of Giant Pandas Iain Valentine said: "The greatly anticipated hormone crossover has now been spotted in Tian Tian our female giant panda - her oestrogen is rising and her progesterone level has fallen through the floor.
"Every individual panda is different and this is only the second time Tian Tian has come into season in Scotland, so it is difficult to predict exactly when the panda breeding season will be.
"Based on last year we would expect her to come into season 11 days from crossover, however her strong behavioural changes do not rule out that it could be even sooner than this."