Reward for Moderator's jewellery lost at Edinburgh Airport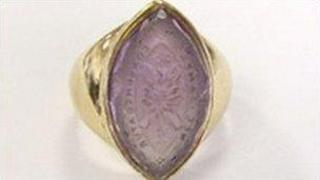 The Church of Scotland is offering a reward for the return of the Moderator's official ring and cross, which were lost at Edinburgh Airport.
The jewellery was in a brown saddle bag on a luggage trolley outside the airport on Friday when it went missing.
The gold ring has an amethyst stone bearing a burning bush and St Andrew's cross with the motto "Nec Tamen Consumebatur".
The cross pendant is on a silver link neck chain.
The cross and ring are worn by the Church Moderator on official duties.
The church is offering a four-figure sum of money for information that leads to the return of the jewellery.
Reverend Albert Bogle, Moderator of the General Assembly, said: "I urge those responsible for taking these items, and accept this may have been done in all innocence, to look at themselves in the mirror, and see in their reflection that the right thing to do would be to return them as soon as possible - even anonymously.
"Please understand these are not my own items, the jewellery and cross are of significant historical importance and belong to the Church of Scotland and, through that, the nation itself.
"We are praying that these articles will be returned in the very near future."
The ring was also stolen from the home of the previous Moderator at Christmas 2010 but the amethyst stone was anonymously returned and the ring was remade.
"When the cross and jewellery are returned, rest assured I and my future Moderators will continue to proudly wear and display them," Reverend Bogle added.
"We cannot have these items locked away because they are the essential symbols of our faith, lived out by in the daily lives of Christians all around Scotland and the world."
Police urged jewellers to be vigilant and look out for the distinctive items.
A Police Scotland spokesman said: "Inquiries are ongoing but we are appealing for anyone who may have any information regarding this to get in touch.
"These items are of great historical significance to the Church of Scotland."