Baby Ainslie Smith inquiry: Faulty cot confirmed as cause of death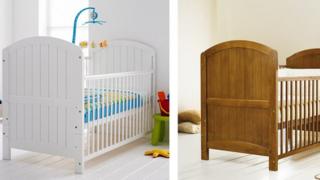 A faulty cot was to blame for the death of a six-month-old baby in Fife, a fatal accident inquiry has concluded.
Ainslie Smith died in his sleep in July 2009 when he became trapped between the mattress and the side of his cot.
Alexandra Smith said she had checked on her son, at their Pitlessie home, when she found his body wedged between the mattress and the side slats.
A post-mortem examination revealed Ainslie had been unable to breathe because his airway was obstructed.
The inquiry heard the Cosatto Stratford cot had a serious design defect which meant its side could come loose, creating a gap that a child could fall in to.
Sheriff Charlie Macnair, who chaired the fatal accident inquiry into the baby's death, said that part of the cot was "not secure" and "would move during normal use".
Efforts 'vindicated'
The sheriff added that the fault should have been identified during the design process by "standard design and engineering techniques".
Ainslie was born on 14 December 2008 and died on 4 July 2009.
Nine months after his death, the manufacturer issued a safety device for the cot.
On behalf of his parents, Ainslie and Alex Smith, their solicitor Tony Anderson, of Rollos Solicitors and Estate Agents, issued the following statement: "Mr and Mrs Smith are more than satisfied with the sheriff's determination.
"They believe it has vindicated their efforts to fully investigate the circumstances leading to the sudden death of their baby boy.
"Whilst they have always known this tragedy could have been avoided, the fatal accident inquiry has undoubtedly established clear defects in the design and construction of the Cosatto cot.
"They only hope that the sheriff's findings now go some way to ensure that the circumstances surrounding their heartbreaking ordeal do not befall another family."
Old stock
Sheriff MacNair said: "There was no dispute that this cot bed had a defect which rendered it unsafe.
"There were at least two alterations which could have been made to the design of the cot bed sold to Mr and Mrs Smith which would have avoided the death.
"Firstly there is the insertion of a screw through the pin.
"This modification had been made prior to the sale of the cot bed to Mr and Mrs Smith but it would appear that old stock was still being sold to customers after that modification had been introduced.
"The other alteration which would have prevented the death was the modification by a safety strap holding the two parts of the split end together. Such a safety strap was provided post accident."
Fife Trading Standards has urged parents to check the make of their cotbeds and to contact Cosatto for advice on whether a safety device is needed.
Cosatto also backed that call, pointing anyone concerned to their website, which has detailed safety notices for the Stratford Cotbed, the Albany 3 in 1 Cotbed, and a high chair.
A Cosatto spokesman said: "We accept the sheriff's determination and take on board all comments made during the hearing.
"We have complied with every aspect of this investigation and remain committed to continual improvement of product safety.
"Our thoughts and condolences remain with the Smith family. It would be inappropriate to make any further comment at this time for legal reasons."
A spokesman for the Crown Office said no one would face criminal charges as a result of Ainslie's death.
He said: "After careful consideration of the facts and circumstances of this death, Crown Counsel concluded that a discretionary Fatal Accident Inquiry should be held and that criminal proceedings should not be raised in respect of this death. The nearest relatives were kept fully informed of this decision making.
"A Fatal Accident Inquiry was subsequently held at Cupar Sheriff Court. On the basis of information contained within the sheriff's determination it is not anticipated that this position will change."