Edinburgh Royal Infirmary hospital's elderly care 'still poor'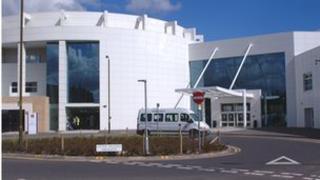 The Royal Infirmary of Edinburgh has been told it must do more to improve the care of older people.
A second inspection of the hospital has been carried out following a severely critical inspection in August last year.
Healthcare Improvement Scotland said most patients were still not being assessed for dementia, pressure ulcers, nutrition and hydration.
The wards were also not appropriate for people with dementia.
However, inspectors noted some improvement and said patients were always treated with dignity and respect.
'Recognised problems'
Norman Provan, Royal College of Nursing Scotland's associate director, said: "Today's report acknowledges some improvements following last year's damning inspection.
"However, despite efforts by NHS Lothian to address the serious issues highlighted by HIS, on the ground we still have concerns about the number of staff on wards and the number of available beds.
"Managers at the hospital have rightly recognised these serious problems and we welcome their efforts to address the issues raised by today's report.
"NHS Lothian, following significant cuts to staff, are now acknowledging that they cut too deeply and are recruiting staff.
This is welcome, as it the fact that senior charge nurses on the wards are being freed up to oversee their teams and provide effective clinical leadership."