Edinburgh Zoo's pandas 'not quite ready' to mate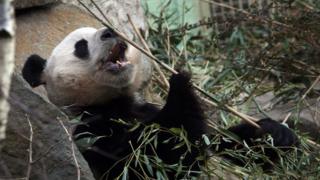 Edinburgh Zoo's pandas are "not quite ready" to be introduced to mate, zookeepers have said.
Experts from China and Germany have flown in and are monitoring the behaviour of the female Tian Tian.
Scientists said her hormone levels suggest she is very close to an annual 36-hour mating window. She is not yet in heat but may be by Wednesday.
Keepers hope Tian Tian and Yang Guang will mate naturally, but will also attempt artificial insemination.
Last year the pandas were introduced to each other several times but did not mate.
Hormone results
A zoo spokeswoman said: "Tian Tian, our female giant panda, chose to sleep a lot of this afternoon so we let her do what her body was telling her it needed.
"She woke late afternoon and we could see by behavioural analysis that she still had not yet reached peak. Her hormone results also backed this up.
"RZSS [Royal Zoological Society of Scotland] experts and our international colleagues will be regrouping early tomorrow morning where another enclosure swap will take place - Tian Tian will go into Yang Guang's outdoor enclosure and vice versa.
"This will give us the perfect opportunity to again monitor what stage Tian Tian has then reached. We hope she will continue to progress overnight and fully hit peak tomorrow morning."
Tian Tian and Yang Guang will be given the opportunity to meet up to three times for short 15 to 30 minute intervals, following the pattern of how pandas would come together briefly in the wild to mate.
If they breed successfully there is a possibility Tian Tian could have twins. Any cubs would remain in Edinburgh for two years before being returned to the Chinese.