Five Sisters Zoo fire: Glazier offers to help rebuild reptile house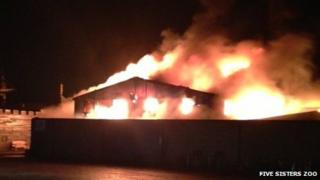 A glazier has offered to rebuild, at no cost, a West Lothian zoo's reptile house which was destroyed by fire at the weekend.
Derrick Findlay, 1st Choice Glazing director, offered to donate glass and timber for a new reptile house, as well as joiners and tradesmen to build it.
The fire broke out in the reptile house of the Five Sisters Zoo at Polbeth, West Calder, at about 03:50 on Sunday.
A "substantial" number of animals died in the fire.
However, about 50 firefighters stopped the flames spreading to other enclosures.
They also rescued two dwarf west African crocodiles and a female otter which were near the reptile house.
No people were injured in the fire.
Mr Findlay, director of the Bathgate-based company, said he often takes his three-year-old son to Five Sisters Zoo which is a "centre for the community".
He posted a message to the zoo's Facebook page, offering 1st Choice's services for free.
It reads: "I take my wee boy there at least once a month, we usually spend between two and three hours feeding the animals and it's a great place to go.
"It's a real centre for the community in West Lothian.
"In a nutshell, we are offering to rebuild the reptile house, and help out in any other way we can.
"We're offering the glass, timber and manpower to build it back up to what it should be.
"I've got my team here, and since I made the offer to the zoo other companies have come forward and said they want to provide assistance in other trades.
"So we've got a full bank of people just waiting for the button to be pushed."
The message added: "It's obviously still very raw for all connected to the zoo, so we're happy just to take their directions on it.
"When I posted the message I had no idea it would build up this much momentum - we've had about 46,000 likes on Facebook for it."
To date, the owners of Five Sisters have received around £18,000 in donations from companies and members of the public.
Lesley Coupar, from marketing and visitor services at the zoo, said staff are "astounded" at the response.
She said: "We have been absolutely amazed and overwhelmed by the community support and response to this terrible tragedy.
"We've been totally swamped on Facebook with messages of support and people offering to help. It really is absolutely wonderful.
"Derrick has made such a generous offer and we are absolutely astounded by it and all the other offers of help.
"We've got to wait until the building is completely demolished and are dealing with the insurance within the correct authorities."