Macmerry Primary School evacuated after suspected WWII grenades found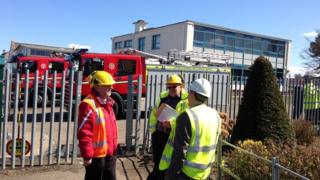 An East Lothian school has been evacuated after World War II grenades were discovered.
They were found at Macmerry Primary School near Tranent by workmen doing excavation work at the back of the building.
Children who had already arrived at the school were taken by teachers to a village hall.
The phosphorous grenades were destroyed in a controlled explosion by Army officers.
An Army spokesman said: "The Army EOD (explosive ordnance disposal) troop based at army headquarters Scotland have been assisting Police Scotland at the incident at Macmerrry Primary School.
The EOD troop, by way of a controlled explosion, disposed of a quantity of WWII phosphorus grenades."
Cordon erected
A spokesman for East Lothian Council said: "Children who had already been dropped off by parents are with teachers at the village hall.
"The majority of children went home with their parents.
"Police and fire service, plus Army bomb disposal experts were all called out as a precaution and are now investigating the best way of disposing of the equipment.
"The school will remain closed for the rest of the day."
Hadden Construction has been refurbishing the school kitchen, building a medical room and extending the entrance hall.
A Police Scotland spokesman said: "A cordon is in place and the emergency ordinance disposal unit are also in attendance.
"The school has been evacuated as a precaution."