David Hay jailed for murdering Kenneth Dick in pool cue attack in Fife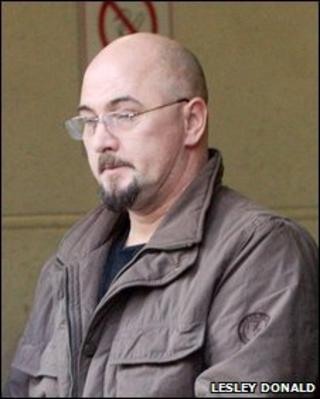 A Fife pub-goer who murdered a man after hitting him on the head with a pool cue has been jailed for life.
David Hay, 48, was sent to prison for 10 years in 2009 for the attempted murder of Kenneth Dick.
But when Mr Dick died in 2010 from injuries he sustained at Blazers pub in Leven, Hay was brought back to court. He was convicted of murder last month.
At the High Court in Glasgow, he was ordered to serve a minimum of 16 years behind bars.
Lady Scott said Hay, also convicted in the 1990s of causing death by dangerous driving, had committed an "inexplicable" attack.
Brain injuries
The judge added: "You struck him with the heavy end of a pool cue. Your victim was unable to defend himself.
"He never recovered. His family had to endure visiting him incapacitated and suffering."
One witness said Hay had asked Mr Dick if he wanted to play pool. Then she saw them arguing. She said she then looked round and saw Mr Dick on the floor.
Former scaffolder Hay told a jury he was drunk that day and had no recollection of what happened.
The court heard Mr Dick was left with severe brain injuries, mainly bed-bound and had to be fed through a tube.
The father-of-five died in Kirkcaldy's Victoria Hospital in November 2010.
Lady Scott said it was clear Mr Dick's family had been left "devastated" by his death.
Mr Dick's eldest daughter Jennifer, 26, spoke after the trial and said she hoped the family would now get "closure".
She added: "I lost my dad the day he was attacked by Hay.
"It's sickening to think that he won't be alive to see his grandchildren or walk his daughters down the aisle."