Pierre Pelletier fined over rats in Le Marche Francais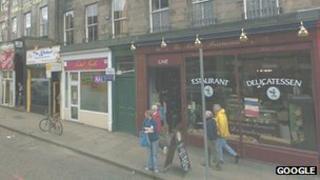 A French restaurant owner has been fined £1,000 after rats were found in his Edinburgh eaterie.
Pierre Pelletier, 45, was in court after safety inspectors found a dead, decaying rat close to food in Le Marche Francais in West Maitland Street.
Edinburgh Sheriff Court heard how Pelletier had been warned on two occasions about the risk of rats.
Pelletier, from Edinburgh, pleaded guilty to breaking food safety laws on 8 April 2011.
The court heard how tram works had disturbed settlements of rats.
Inspectors warned him that he had to appoint professional pest controllers to control possible infestations.
However, he chose to ignore the advice and put down rat poison himself.
Financial hardship
Inspectors then found a dead animal that had passed away sometime previously in the restaurant basement.
They also found rat droppings and holes which the rats used to come into Le Marche Francais from outside.
Pelletier's solicitor Roy Harley said the infestation had been caused by nearby works on tram lines.
Mr Harley said: "The tram works nearby caused rats to be disturbed. They moved not only into my client's premises but neighbouring premises nearby."
Mr Harley also said professional pest controllers were finally called into tackle the problem surrounding the rat infestation.
However, he also said Mr Pelletier had suffered financial hardship as a consequence of the infestation.
Edinburgh City Council's environment convener, Councillor Lesley Hinds, said: "This is the second restaurant this year which has ended up in court for breaking food hygiene rules thanks to the dedicated enforcement work of our Environmental Health Officers.
"In both cases guilty pleas were submitted and I hope this sends a strong message to all food business operators in the city that we will take action in order to safeguard the health and wellbeing of Edinburgh's residents and visitors.
"Everyone is entitled to expect the highest standards of food hygiene when they eat in this fantastic city and it's important for them to have confidence that they can eat out safely."