Blackbird chicks hitch ride across border in tractor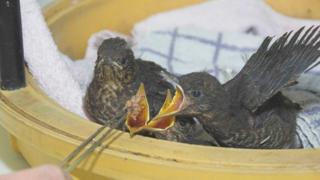 Four blackbird chicks who hitched a ride from Cumbria to Fife in a tractor were "extremely hungry" when they were found.
Workers at T.M Simpson in Ceres, near Cupar, where the tractor was delivered discovered the nest underneath the cab.
The three-week-old blackbirds are now being cared for at the Scottish SPCA's National Wildlife Rescue Centre in Clackmannanshire.
The chicks have been nicknamed the "tractor boys".
The tractor had travelled from Appleby.
Kieran Smart, of the Scottish SPCA, said: "The tractor the birds were found in is brand new and was transported to Fife on the back of a truck.
"It's likely the blackbirds' mum would have flown off as soon as it started moving.
"The birds were extremely hungry when I rescued them but they are now doing well in our care.
"They're too young to be on their own so they're currently being assist-fed around the clock by a member of our wildlife team.
"We'll release the blackbirds back into the wild once they're old enough to fend for themselves."