Lifeboat volunteer from Anstruther in Fife awarded medal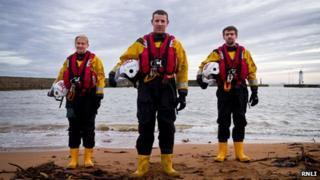 A gallantry medal has been awarded to a lifeboat volunteer for a night-time rescue which saved two lives.
Barry Gourlay, 30, was one of a three-person crew which rescued two men from a boat aground on the Fife coast.
The Royal National Lifeboat Institution (RNLI) said his expert seamanship "undoubtedly" saved their lives.
Mr Gourlay's bronze medal for gallantry is only the 83rd to be awarded to a Scottish volunteer since the award was introduced in 1917.
He was presented with the medal at a ceremony in London. Mr Gourlay is a volunteer, as are most members of lifeboat crews, and works as a mechanical engineer.
His fellow crew members, fisherman Euan Hoggan, 22, and PhD student Rebecca Jewell, 30, also attended the London ceremony.
They will be formally thanked by the institution at a July ceremony in Scotland, in recognition of their skill and bravery that night.
All three crew members live in the Anstruther area.
Mr Gourlay said it was a "great honour" to receive the award for his courage and boat-handling skills.
"We are fortunate to receive such a high level of training from the RNLI, which gave us the skills to carry out this rescue," he said.
"I was able to act decisively on the night because I had such confidence in the ability of my crew mates, Becci and Euan. It was very much a team effort, recognition must also go to the shore crew and the crew aboard the all-weather lifeboat."
Run aground
The rescue began shortly after midnight on 1 August, 2012.
Paul Harrison and his son Sean had run aground after their boat's hydraulic steering system developed a fault.
Strong winds and swell forced the boat, Princess, onto rocks near Crail in Fife.
Mr Gourlay steered the Anstruther inshore lifeboat through breaking waves, shallow water and debris to get to the men.
Once they were brought safely aboard, the inshore lifeboat made its way out to Anstruther's larger all-weather lifeboat, which brought them ashore.
Paul Harrison paid tribute to Mr Gourlay and his colleagues. He said: "To do what he did with that boat in those conditions - that takes something.
"They were just fantastic, there wasn't anything that they didn't do for us, a lot of people don't realise that they're not paid for it, they have jobs as well and they're putting their lives in jeopardy to save other people."
RNLI operations director Michael Vlasto said: "Helmsman Gourlay's command decisions and decisive actions underpinned by exceptional boat-handling and expert seamanship undoubtedly saved the lives of these two men - they would not have made it to shore alive if they had attempted to swim and, not long after the rescue, the Princess was driven further onto the rocks.
"Crew members Jewell and Hoggan also demonstrated tremendous bravery in supporting Helmsman Gourlay in what were extremely difficult conditions."