Edinburgh Marathon to see thousands race through capital's streets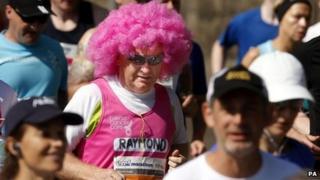 More than 27,000 runners are to hit the streets of the capital over the weekend for the Edinburgh Marathon Festival.
It includes the marathon, the half marathon, a 10K, a 5K, two junior races and an international breakfast run for visiting overseas runners.
Organisers are hoping to raise more than £4.5m in 2013.
The half marathon starts at 08:00 on Sunday at Regent Road. The marathon has a staggered start on Sunday at 09:50 at London Road and 10:00 at Regent Road.
The other races are being held on Saturday from Dynamic Earth.
Sporting calendar
Neil Kilgour, Edinburgh Marathon Festival race director, said: "Edinburgh Marathon Festival has it all a great city that acts as a stunning backdrop to the event's proceedings and a programme of races that means that everyone is catered for from children to marathon veterans.
"We're looking forward to welcoming back the thousands of runners who've supported the event over the years plus the thousands who will be joining us for the first time.
"Nothing beats the feeling of achieving a goal and you can achieve in Edinburgh. Grab the moment and make it happen."
The Edinburgh Marathon has joined the world's elite road races by becoming the first in Scotland to be officially recognized by the International Association of Athletics Federations, the athletics governing body.
The IAAF bronze label now puts the Edinburgh Marathon among the top 75 in the world making it a pivotal part of the sporting calendar for runners.
Neil Kilgour, Edinburgh Marathon Festival race director, said: "This is Scotland's first and only event to attain any form of IAAF label and we're proud that we've helped build the Edinburgh Marathon Festival into a major running occasion.
"I believe we have the fastest route in Europe and maybe the world.
"This is proven year in year out in the times achieved. If you're looking to get a personal best time then Edinburgh is the place to be."