Edinburgh Council faces 'substantial financial challenge', says accounts body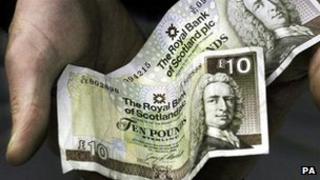 Edinburgh City Council is facing a ''substantial financial challenge'' in the coming years, according to the Accounts Commission.
It said the authority had made improvements in some areas, but its future success depended on achieving savings of £107m by 2017.
The commission added that the council needed to restore public confidence.
Council chief executive Sue Bruce said the council was "prioritising" meeting its savings targets.
The commission recognised that all of Scotland's 32 council had financial issues but it found that the situation in Edinburgh was "particularly challenging".
Chairman of the body John Baillie welcomed improvements identified by auditors in partnership working, economic development and children's services but said the scale of the financial challenge was substantial.
Public money
In the report he said: "The council does have plans for the next four years but there are significant risks and uncertainties around whether these targets are achievable.
"Its prospects for future improvement depend heavily on it achieving planned savings and addressing the funding gaps that remain.
"The council should give absolute priority to making sure the savings are delivered."
Further challenges remain to restore public confidence damaged by the controversial tram project and statutory repairs service, he added.
Mr Baillie was responding to a report prepared for the commission by Audit Scotland, which scrutinises the way public money is spent.
The commission stated: "The challenge of reducing budgets is found in other councils but the commission considers there is a set of circumstances which makes Edinburgh's situation particularly challenging."
'Strong leadership'
It noted "recent strong leadership" and said a follow-up study would monitor progress in 18 months.
Council chief executive Ms Bruce said "I'm pleased that our achievements in recent years were recognised, especially given some of the challenges we've been tackling.
"The commission is keen that we prioritise meeting our savings targets and that is what we're doing.
"Indeed, the auditors found that we already manage our finances well and have a good understanding of what we need to do."
Council leader Andrew Burns, who heads the city's Labour-led coalition administration with the SNP, said: "I agree with the commission that we need to deal with the significant financial challenges we face.
"Our new approach to publishing and consulting on a draft budget earlier than any previous council will help us to do that. I'm confident that the follow-up review in 18 months' time will show that we have made further significant progress.
"In the meantime, we will continue with our commitment to report openly and regularly on our achievements against the pledges we made."