St John's children's hospital ward may be scaled back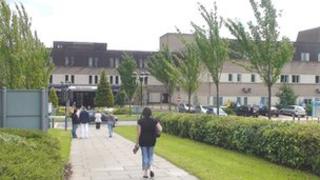 Children's services at St John's hospital in Livingston could be scaled back under proposals in a report.
An expert team has suggested replacing the ward with a short-stay unit to assess patients and refer them on.
NHS Lothian said it was still committed to 24/7 paediatric services at St John's. A meeting to discuss the report will be held later in June.
Out-of-hours admissions to the ward were suspended for three weeks last July due to a lack of staff.
A report by the team said that despite fresh recruitment, rotas at the hospital remained "fragile" and that the situation was "short-term and expensive".
Staff rota
Consultants at the hospital were "fairly confident" they could staff the service provided by the ward after August and "potentially" until the end of the year.
"However, at present, due to continued reliance on locums, the team are still only able to staff a rota around four weeks ahead," the report said.
One proposed solution is to replace the inpatient ward with a short-stay unit that would be open in the daytime only.
Children would be assessed and those who needed a longer hospital stay would be referred on to the Royal Hospital for Sick Children (RHSC) in Edinburgh.
A second option is a similar unit that would be open 24 hours. Children could stay for up to six hours before being referred to RHSC.
The third suggestion from the Tailored Workforce Support Team (TWST) is to continue with the status quo.
A second paper which looks at the three options in detail will go before the board in July.
NHS Lothian said it remained committed to 24/7 paediatric services at the hospital and that it had taken on 11 new members of staff to address the problem.
Dr David Farquharson, medical director at the health board, said: "I am delighted that we have been able to bring in some top quality people to boost the paediatric and neonatal service overall, and at St John's Hospital in particular.
"However, the staffing situation still needs to be very closely monitored. The TWST report gives us further options to look at if we require to consider a contingency to keep the service operational.
"We will examine this in detail at our board meeting in July."