Passenger numbers rise at Edinburgh and Glasgow airports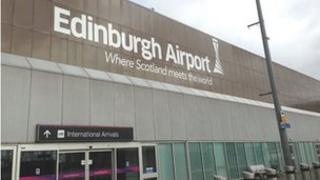 Edinburgh Airport has recorded its busiest-ever May after handling more than 906,000 passengers last month.
Traffic was up 7.4% compared to the same month last year, boosted by an increase in international flights.
Growth was also recorded at Glasgow Airport, which handled 665,000 passengers in May - an increase of 1% on last year.
Operators have added 18 new destinations in Edinburgh since its change of ownership last June.
It was bought by Global Infrastructure Partners (GIP) after the Competition Commission ruled that previous owner BAA had to sell either Edinburgh or Glasgow airport.
Edinburgh now has more than 130 destinations, with a new Toronto service due to start in July.
The airport said international traffic rose by 11.8% in May, driven by new services from easyJet and Ryanair, and domestic traffic increased by 2.7% with "strong performances" from British Airways and Virgin Atlantic's new Little Red service to Heathrow.
Chief executive Gordon Dewar said: "When we bought Edinburgh Airport in June last year, we were very clear about the issues we faced and how we were going to tackle them.
"The team here has put in a tremendous amount of work and in May we saw all of that work bear fruit.
"The increase in domestic traffic is particularly pleasing in what is an incredibly competitive marketplace."
Edinburgh Airport handles about 9.2 million passengers a year and employs more than 5,000 people.
Busy summer
Glasgow Airport said popular services to Dusseldorf, Warsaw and Gdansk had contributed to a 15% increase in its scheduled flights with the European Union.
Amanda McMillan, Glasgow Airport's managing director, said: "We have been working closely with our airline partners to introduce new routes and add capacity on existing services, and our efforts have been reflected in the continued increase in passenger numbers.
"We are now looking forward to what promises to be a busy summer season and have recruited additional members of staff to meet the extra demand.
"They will be on-hand to offer assistance to the tens of thousands of passengers who will travel through the airport in the coming weeks and to ensure their holidays get off to the best possible start."