Bronze war memorial statue stolen in East Wemyss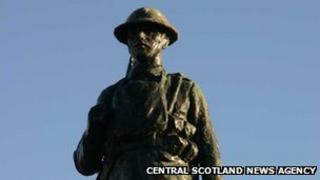 Police are investigating the theft of a bronze statue from a war memorial in East Wemyss.
The figure is believed to have been taken on Tuesday and it was reported missing by a local resident on Wednesday.
The piece is described as 3ft high and of a soldier marching in full uniform with a gun over his right shoulder.
It stood more than 7ft off the ground on a pedestal, which features the names of local soldiers.
Insp Donald Jenks, of Police Scotland Fife Division, said: "This is a particularly callous theft that shows considerable disrespect to the memory of those local people who have given the ultimate sacrifice in the protection of our country.
"This statute is particularly treasured by the local community and has a value far beyond its scrap value. We are at the early stages of our investigation and I would ask anyone with information to contact with us."
Theft 'demoralising'
Many of those remembered on the East Wemyss memorial died while serving with The Black Watch, the former regiment, now a battalion, which traditionally recruits in Fife.
Black Watch Trust spokesman Maj Ronnie Proctor, who served in the regiment for 40 years, said the theft would "demoralise" veterans and soldiers.
He said: "I just feel that it is disgusting that someone could do this.
"We are coming up to the centenary of the start of the First World War and the people who have done this are very, very mindless.
"This has been put up to remember men who gave their own lives for our country.
"There were 8,000 men from the Black Watch killed, and 20,000 injured, in the First World War, a lot of them were from Fife and some would have been from East Wemyss.
"I look after veterans all over Scotland and I think this terrible theft will be very demoralising for them, as it will even be for current soldiers."
Local councillor Jim Young said: "The statue went missing before in the 1990s and was found a considerable time later in England and returned to its rightful place in the community.
"With the centenary of World War One approaching we are clearly keen to recover the statue quickly."