Stolen war memorial statue in East Wemyss found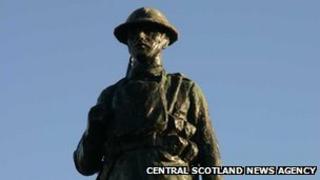 A 3ft tall bronze statue of a World War I infantryman with his gun, which was stolen from the top of a Fife war, memorial has been found.
The statue was stolen from on top of the memorial in front of St Mary's Church in East Wemyss on Tuesday.
Some villagers offered their own money as a reward for its safe return.
However the statue, which dates from 1921, was found six miles away at the entrance to Hayfield Cemetery in Kirkcaldy on Friday.
A man was said to have "immediately recognised" the statue from media reports and called police.
Officers recovered the statue, and it is now being stored at Levenmouth Police Station until it can be returned to top of the war memorial.
'Very happy'
It is the second time in its 92-year history that it has been stolen.
In the mid-90s the statue, which stands more than 7ft off the ground, went missing for several years before it was discovered by police raiding a house in Halifax, in Yorkshire's West Riding.
It has the names of 98 servicemen from the town who fell during the two World Wars, and one from a further conflict.
Local councillor Jim Young, 66, whose own uncle Robert Young was killed in the Navy in World War II, said: "I'm delighted it has been returned, I really am very happy.
"It is great for the community this means a lot to everyone, as we have seen since he went missing.
"The police have done brilliant work in finding it so quickly and I have no doubt the coverage given to finding it in the media greatly assisted."
He added: "The soldier is very important to our town and it is great to have him back so quickly.
"I think it must be the first time ever a war memorial statue has been stolen twice and returned twice, but I am relieved it has been."