Drunk motorist drove wrong way on M8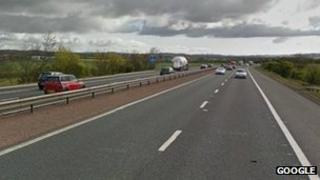 A motorist has been jailed after driving the wrong way down Scotland's busiest motorway while nearly four times the legal alcohol limit.
Marisusz Poleszak drove towards oncoming vehicles on the M8, forcing them to swerve out of the way.
He eventually brought his car to a stop by braking and skidding onto gravel next to the crash barrier dividing the east and westbound lanes.
Poleszak was jailed for four months at Livingston Sheriff Court.
Also banning the Polish national from driving for two years, Sheriff Douglas Kinloch said Poleszak would have to resit a UK driving test before being allowed back on the road.
Poleszak, from Shotts, in North Lanarkshire, pled guilty to driving dangerously on the Glasgow to Edinburgh motorway on 27 March.
He admitted driving his grey Mazda 3 eastwards on the westbound carriageway at the Union Canal in West Lothian, causing other vehicles to take evasive action.
He also pled guilty to driving with 130mg of alcohol per 100ml of breath - almost four times the 35mg legal limit.
Neil Stewart, defending, said the accused had drunk a quarter bottle of vodka on the morning of the offence and had bought another quarter bottle on his way to work that evening.
Mr Stewart said: "When he got to work his employer advised him that he shouldn't be at work given his state and he then drove back home. That's when he was stopped.
"He is extremely alarmed by the way that he acted although his recollection of events isn't entirely clear."
He said Poleszak, a father of two, had been unable to sleep since the offence and had struggled to come to terms with the decisions he made that day.
He added: "He's fully aware of the consequences his actions could have brought about and shows appropriate remorse."
Sheriff Kinloch said there was no alternative to a custodial sentence given the gravity of the charges.