Man holds up bookmakers with knife at Bathgate Ladbrokes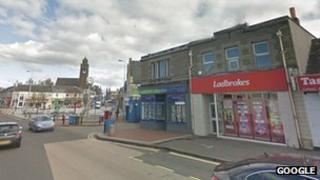 Police in West Lothian are appealing for witnesses following a robbery at a bookmakers in West Lothian.
The incident happened at a Ladbrokes in Bathgate at 10:20 on Sunday.
A man entered the shop in King Street, produced a knife and demanded money. He then fled from the shop with stolen cash before police were alerted.
He is white, about 5ft 7ins tall, of slim build, with a pale complexion, dark brown eyebrows, brown eyes with dark stubble around his mouth.
He was wearing a dark-coloured baseball cap, and a dark Adidas hooded top with a lighter section down the centre at the front and three Adidas stripes down the arms.
A Police Scotland spokesman appealed for witnesses and said: "While nobody was injured, this was an upsetting ordeal for both staff and customers, and we are eager for any information that can help us trace the suspect."