Corstorphine Hill murder: Plea to dentists over mystery victim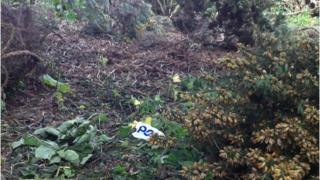 Police investigating the murder of a woman whose body was found on a hill in Edinburgh are seeking dentists' help to identify the victim.
The woman was discovered in a wooded area of Corstorphine Hill on 6 June by a cyclist.
She had expensive cosmetic veneers on her teeth and was wearing four distinctive rings.
Police have now issued details of the woman's dental work through trade publications.
Trade publications
Det Ch Insp Keith Hardie, of Police Scotland, said: "Since this woman's body was found we have had an excellent response from the public, but we are still awaiting that crucial piece of information which will help us identify her.
"We have already highlighted the fact that she had extensive cosmetic dental work.
"Thanks to help from the Edinburgh Dental Institute, we have now established a great deal of information around the implants and veneers.
"As a result we are now sharing that information through dental trade publications in the hope that dental professionals might recognise details of the work and bring us closer to identifying this woman.
"I remain confident that, with the help of the public and expert advice, we will find out who this woman is and find those responsible for her murder."
The dead woman was described as being white, between 32 and 60 years old and about 5ft 2in tall.
She was wearing four distinctive rings including an Irish Claddagh ring, which was facing towards the body, which traditionally means the wearer has a partner.
All the rings are old but are not thought to have significant value.